AggreGate Building Automation is a powerful and flexible Building Management System (BMS). Its vendor-agnostic technology and open-source interfaces based on IT standards are extremely well-suited for controlling all intelligent building systems. Working as a central component of a facility control center, AggreGate acquires, interprets, routes, processes, and visualizes the data from thousands of devices and sources.
AggreGate Building Automation is designed to control and monitor different equipment and systems:
| | |
| --- | --- |
| HVAC | Lighting |
| Pumps, Boilers, and Motors | Energy Management |
| IP Network Infrastructure | Physical Access Control |
| Video Surveillance | Fire Safety |
Analytical capabilities of the underlying AggreGate IIoT Platform allow BMS to improve the power efficiency of buildings and cut the operational costs as a result.
Integrated Building Control Center
AggreGate is designed to join different systems for building an intelligent building control center. It provides the centralized monitoring and management for HVAC, lighting, access control, and network infrastructure. The central server aggregates all events and provides simultaneous real-time remote access to several operators.
Factories and industrial buildings benefit from the integration of Building Management System with Process Control and SCADA.
During the building design phase, the focus is on integration and automation of different functionality. An expedient integration that starts at the design stage lays the foundation for a user-friendly building operation and satisfies the requirements of investors and building operators.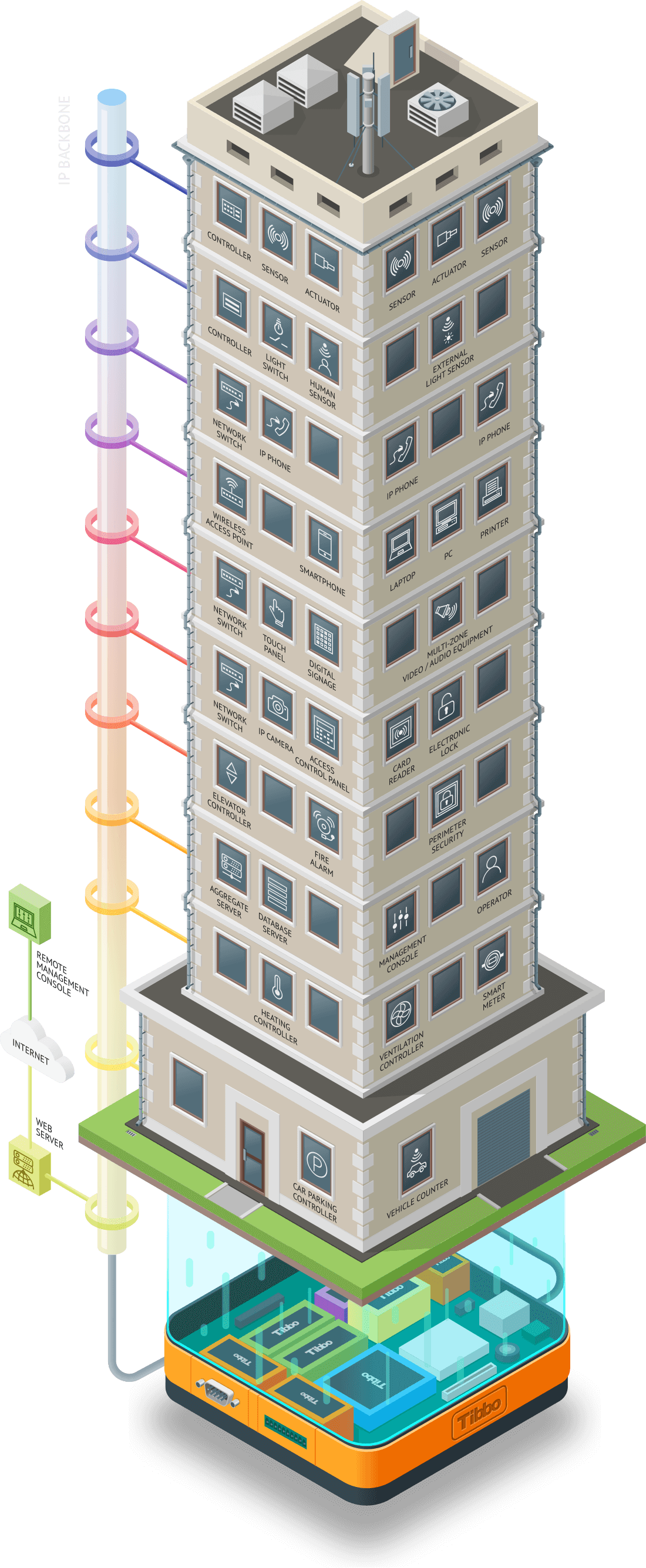 Tibbo Building Automation Controllers
Tibbo Technology is a leading manufacturer of programmable industrial controllers. Though AggreGate Building Automation can connect to virtually any third-party PLC and industrial PC, Tibbo controllers are also natively compatible with the system and can solve most typical building automation tasks.
Building Automation Platform
AggreGate Building Automation is an off-the-shelf product supporting most industry standards for communications, data storage and visualization, control algorithm development, and IT security. It complies the technical requirements found in the majority of BMS-type projects our partners faced over the last decade.
Open-Source SDK
AggreGate Server provides the open-source APIs for Java and .NET. These APIs allow a full remote control of the server and access to all the server/device data from any third-party application. It's also possible to create new device drivers and data processing/presentation plugins. In addition, the AggreGate Server can be controlled via Web Services.
Flexible Security Model
AggreGate IoT Platform establishes a serious security infrastructure for the AggreGate BMS by providing a flexible role-based access control. In addition, all communications between the server, operator workstations, HMIs, and third-party systems are performed via SSL-secured connections.
From Intelligent Building to Smart City
The distributed architecture, high performance, along with data mining and orchestration capabilities of the platform let it play in a smart city league. With its unified data model, AggreGate controls the lights in a room and implements the debriefing scenarios in a town-wide situation center with equal success.
Successful Track Record
Engineering and integration companies in over 50 countries use the AggreGate BMS in their facility automation projects. See some real-life cases below or jump to customers for viewing more projects.
See all projects
System Unification
The full power of AggreGate Building Automation is revealed when it manages a large infrastructure providing an umbrella coverage for numerous lower-level monitoring and management systems.
Network Management Server

Logistic Service Vehicles
It looks like you won't be able to submit the form due to problems with your provider. Please register and you will be able to submit any forms!