Despite AggreGate has grown up as an IoT integration platform, it is now much more than that. AggreGate opens up considerable opportunities for its further development thanks to the flexible modular architecture with a unified data model foundation.
Today's AggreGate is an unparalleled platform which enables end-to-end digitalization of enterprises seamlessly combining IoT, big data and advanced analytics. Unified digital enterprise AggreGate platform is a solid basis on your path to Industry 4.0.
Unified Digital Enterprise Platform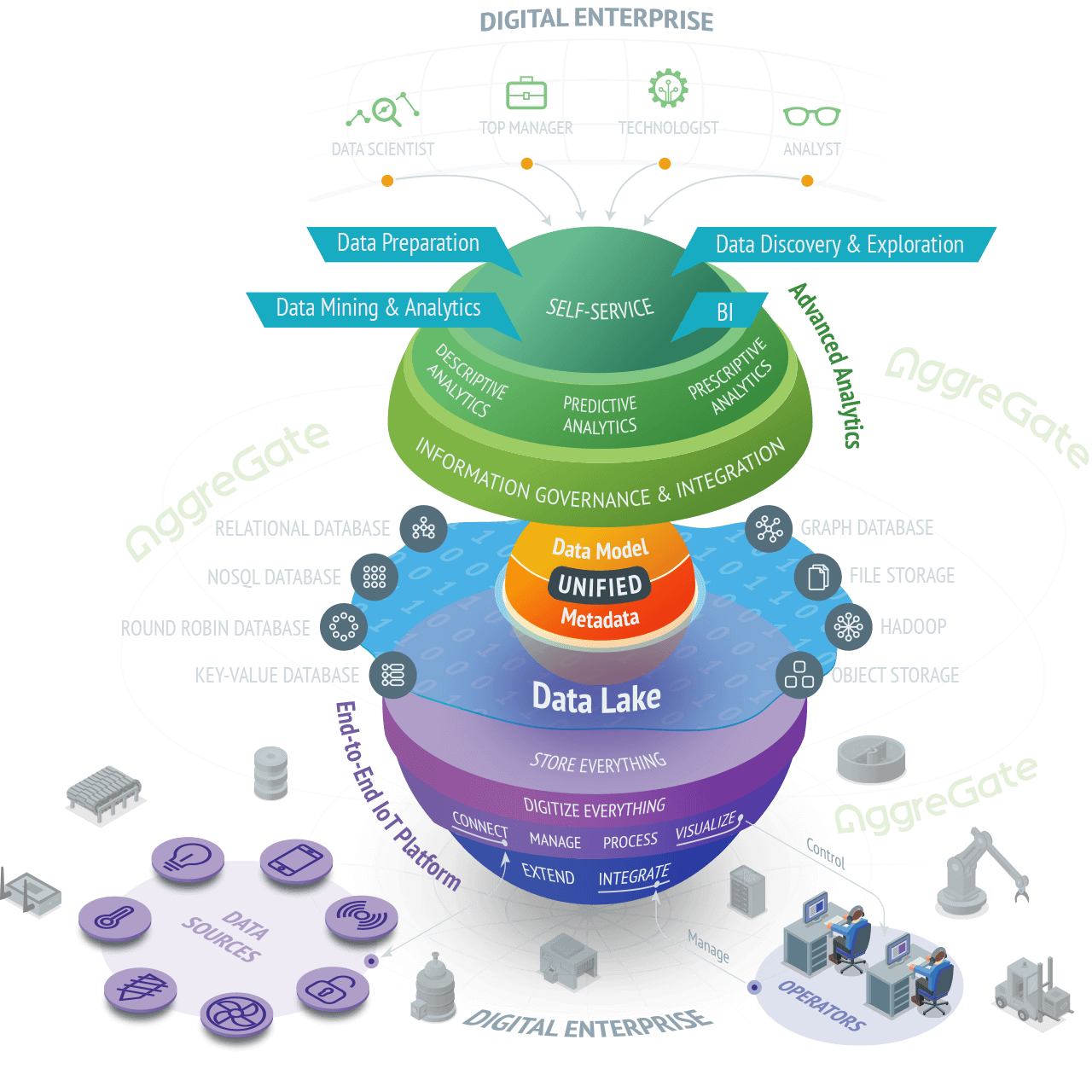 Digitalization From the Bottom Up
Unlike many others, we grew from managing millions of devices up to understanding their talks. AggreGate platform knows how to build digital bridges between diverse physical assets and channels directing their output into a corporate data lake.
Open for Private Cloud
Being involved in mostly mission-critical projects, we perfectly understand the political and performance limitations of PaaS/SaaS cloud services. AggreGate runs on-premise – both in your private cloud and on the edge of your corporate IT perimeter. There are no limits implied by the vertical products or licensing policy – zero bytes of data will ever get out of the DMZ if this matches your security and compliance strategy.
From SMBs to Enterprises
AggreGate serves the enterprises of all sizes, from very small firms to Fortune Global 500 leaders. Its pricing policy is suitable for the self-service deployment by a sole proprietor of a micro business but larger environments are perfectly attractive for integrators and insources monetizing the enterprise digitalization services.
Cross-Industry Span
High-level design of the platform matches all industries and verticals, from agriculture, banking and telecoms to oil and gas, energy and manufacturing. A general rule of thumb asserts: the more physical assets a company has the more value can be driven by AggreGate. However, even fully electronic businesses leverage the solutions like business service management, data orchestration and business intelligence.
From Physical Assets to Big Data Sources
AggreGate has always been used to talk to sensors, gateways and other pure hardware devices. It can speak over 100 device languages which are diverse standard communication protocols. A more recent evolution made it friendly to the sources of structured data, such as NoSQL databases and distributed computing engines. Each of them can represent a whole lower-level monitoring and management system – but we know how to deal with such complexities.
From the Internet of Things to Business Intelligence
AggreGate was effectively an IoT platform since the mid-2000s, much before "The Internet of Things" term gained a widespread use. Since then, it went through a series of evolutions turning into a unified digital enterprise platform capable of servicing as industrial data bus, incident and situation management framework, command and control center software, and business intelligence suite.
From Edge to Cloud
AggreGate servers are extremely mutable. They are optimized for large cloud deployments with hundreds of gigabytes of RAM and dozens of CPU cores. At the same time, they can perfectly run in the resource-restrained environments like single-board PCs and inexpensive IoT gateways. All modules and features are available in both cases – the only difference is a single-server scaling capability that spans from hundreds to a hundred thousand events per second.
From Simple Alerts to Machine Learning
The platform offers a very diversified set of data processing and analytics modules. They range from the easy and straightforward batch operations to sophisticated process models trained to operate the pattern recognition algorithms. Whichever custom data treatment might be demanded by your enterprise – it's very likely that AggreGate already provides multiple ways to perform this.
From HMIs to Executive Dashboards
AggreGate's user interface design capabilities are also varied. Apart from typical statistical dashboards, the platform data visualization tools can be used to develop data entry forms, human-machine interfaces, multi-layered GIS interfaces, advanced topology graphs, video walls, and much more. The open-source UI component SDK ensures that our partners and customers never get stuck even if some off-the-wall visual tricks are found among the project requirements.
IT/OT Convergence
AggreGate is the world's only digital enterprise platform that serves as a foundation for an off-the-shelf IT infrastructure monitoring product. It has numerous modules related to monitoring networks, applications and business services, as well as providing the IT asset inventory and implementing ITIL processes. Those modules live side-by-side with the IoT and automation features, and together ensure the best-of-breed co-existence of IT and operational technologies.
Incident Management Middleware
In large environments, AggreGate is often used as a middleware between NMS/BMS/SCADA systems and ITSM/CMMS/Helpdesk/Service Desk systems. In this scenario, AggreGate collects and consolidates the alerts from diverse management systems, normalizes and enriches them by using the information pulled from Inventory systems, and then forwards the enriched alerts to ITSM systems by converting them to trouble tickets and maintenance orders. Those tickets are then managed by AggreGate and sometimes auto-closed upon the alarm deactivation.
Off-the-Shelf Vertical Products
Enterprise digitalization and automation projects are rarely backed by the bare AggreGate platform. In most cases, each project depends on a combination of the platform's basic modules and vertical market products derived from it. These could be SCADA/HMI, fleet management or smart metering systems. Multiplication of their strengths with the underlying platform's flexibility imparts development of a unique end-to-end solution.
It looks like you won't be able to submit the form due to problems with your provider. Please register and you will be able to submit any forms!