Network Traffic Monitoring
To provide a reliable network, an administrator has to:
Detect network problems quickly, before they escalate
Reveal roots of the problems and solve them
Ensure quality of service
AggreGate Network Manager helps you by offering an integrated environment for network performance analysis.
Traffic and Bandwidth Statistics
Most network troubles can be detected by monitoring specific network interfaces for traffic going through, bandwidth utilization, errors and discarded packets.
AggreGate Network Manager collects this information and makes it available in various forms:
Alerts: Interface Down, Too High Utilization, etc.
Charts: Visualization of Interface Traffic, Bandwidth Utilization, Error Packets, etc.
Reports: Top Traffic/Bandwidth, High Bandwidth Utilization, and more.
You can then analyze real-time and historical data to optimize your network.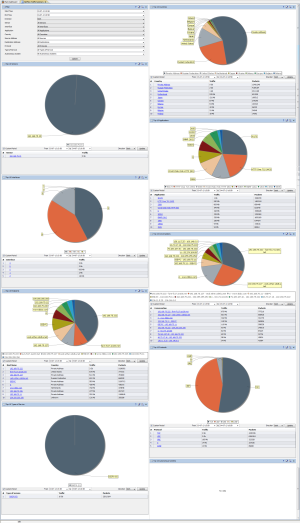 NetFlow Summary Dashboard
Endpoint Dashboard
NetFlow and sFlow Monitoring
NetFlow-based traffic decomposition lets you:
Identify most intensive network users (hosts/applications/protocols)
Estimate the percentage of unproductive traffic
Discover and track usage patterns
Measure network growth
Detect security threats
The NetFlow plugin collects network flows. These can then be used for producing useful reports and custom charts. You supply the data elements along with filtering, grouping and sorting criteria, while AggreGate then generates a chart.
It looks like you won't be able to submit the form due to problems with your provider. Please register and you will be able to submit any forms!