Printer Monitoring
How many times was your office life hindered by an abrupt printer problem? Toner deficiency is always sudden and amiss. Your document is always the last one in a huge queue grown by an unnoticed paper jam.
Such problems can be easily prevented by the centralized printer monitoring. AggreGate Network Manager provides this remote monitoring and management by real-time printer status tracking and customizable problem alerting.
Centralized Printer Status Monitoring and Configuration
Modern network printers can impart a lot about themselves using SNMP. Acting as a flexible printer monitoring tool, the Network Manager keeps track of all details provided by printers. Moreover, these details can be consolidated to present important information in a brief and clear form.
For example, AggreGate printer monitor software provides customizable mappings for constructing a consolidated printer status from three indicators:
Printer state, i.e. state of the printer as a generic network device
Current printing state
Error conditions detected by the printer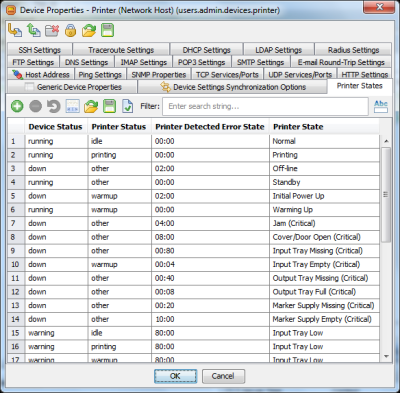 Printer Status Monitor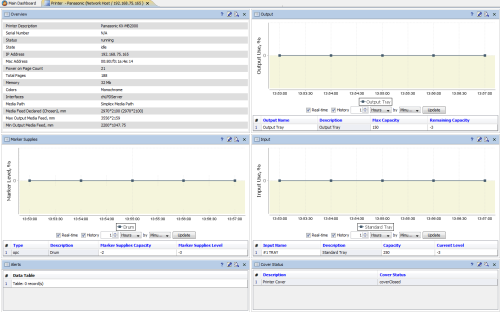 Printer Monitoring Dashboard
This consolidated status is presented by the Printer Information Widget along with other important details:
General printer information: name, description, serial number, MAC address
Capabilities, e.g. colorants count
Consolidated printer status: Normal, Printing, Standby, Warming Up, Paper Jam, Cover Open, etc.
Current marker supplies, for example, toner remainder
Printer Problem Alerting
AggreGate printer status monitor exploits an alert to reach out to an administrator once a critical printer event is detected. It can be configured to observe various conditions, ensure appropriate notifications and handle some problems automatically when possible.
There are several pre-defined printer problem alerts, e.g.:
Low supplies: triggered when a lack of certain printing resources (paper, toner, etc.) is detected
Cover/door state: warn if printer's cover or door is open for a long time
Critical event: notify the system administrator if printing is stopped and cannot be continued for a reason.
Multi-vendor Printer Status Monitor
AggreGate Network Manager supports most widespread printer vendors out-of-the-box:
Brother
Canon
Panasonic
Samsung
Sharp
It looks like you won't be able to submit the form due to problems with your provider. Please register and you will be able to submit any forms!