Our Linux-based Tibbo Project System (LTPS) is a highly configurable and affordable hardware automation platform. Its flexibility is based on Tibbits – miniature blocks that implement specific I/O features allowing to build a custom PLC or an Industrial IoT gateway.
The "brain" of LTPS is a fully functional AggreGate Server. Having AggreGate as a core runtime environment allows LTPS to inherit its advanced technology features related to data acquisition, storage, processing, visualization, and integration into the higher level systems, such as SCADA or BMS.
When AggreGate runs embedded into LTPS, it gets the full control of all Tibbit modules, including DI/DO, ADC/DAC, relays, RS232/422/485 ports, GPRS modem, Wi-Fi module, CAN bus, SPI/I2C ports, sensors, LEDs, buttons, IR transceivers, Wiegand and clock/data inputs, 3-axis accelerometers, potentiometers, RTC + NVRAM, SD card slot, and more.
Tibbo's Linux-Based Modular IoT Gateway
LTPP3 is a Linux-based Tibbo Project System (LTPS) board with the Ethernet, as well as optional Wi-Fi and GPRS connectivity. The board is based on a powerful 1GHz Cortex-A8 Sitara CPU and has four UARTs, as well as two CAN controllers.
The LTPP3 is ideal for applications that require no onboard human-machine interface (HMI) while calling for a significant number of I/O lines and/or functions. Offering 7 tiles for a total of 14 Tibbit module and 14 Tibbit connector sockets, the LTPP3 can be used to construct devices with up to 25 relays, or up to 47 opto-inputs, PWM outputs, open-collector outputs, or other I/O.
The product can be used as a bare board or assembled into a size 3 Tibbo Project Box (TPB3).
The LTPP3 is supported by our Online Configurator allowing you to define and order a custom TPS device with Tibbits and options of your choice.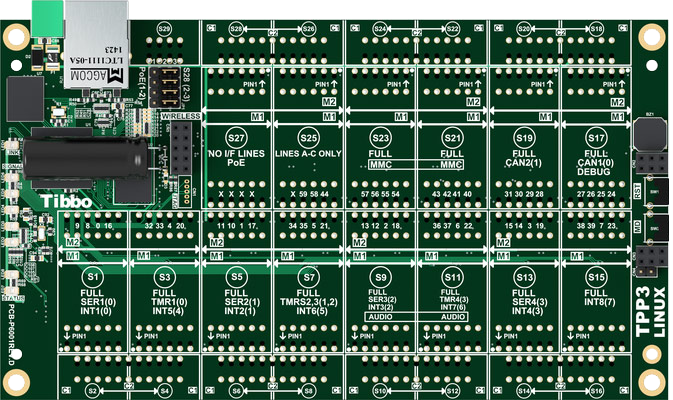 Key Features
CPU
1GHz Cortex-A8 Sitara CPU from Texas Instruments
Ethernet Port
10/100 Base-T Ethernet port with onboard magnetics and RJ45 jack
Inputs
51 I/O lines on 7 tiles (14 x module + 14 x connector sockets)
Wi-Fi
Optional Wi-Fi connectivity
GPRS
Optional GPRS connectivity
UARTs
4 UARTs support serial, Wiegand, and clock/data streams
Serial Ports
4 synchronous serial ports with SPI and I2C modes
Buzzer
Onboard buzzer + optional 96KHz stereo audio line out, mic. in
RTC
Onboard RTC with a backup supercapacitor
Flash Disk
512MB DDR3 SDRAM + 512MB NAND flash
SD Card
Optional micro SD card slot
Power
5V power (12V/24V/48V/POE via Tibbit modules)