MySQL Server Performance Monitoring and Management
MySQL is known as a commonly used database monitoring system (DBMS) for small and medium applications. No need to specify numerous IT areas making use of the MySQL database. The major concern for the database administrators is MySQL timely monitoring and performance control.
AggreGate Network Manager provides a top-quality out-of-the-box MySQL monitoring tool for MySQL agent-free monitoring with no extra load on your monitored database. No matter how many databases you have to administer, the AggreGate Network Manager keeps track of their performance from a single console revealing all MySQL statistics. Moreover, our MySQL management tool lets you set up own SQL queries to monitor latencies and their proper execution.
AggreGate Network Manager is a reliable instrument for MySQL performance monitoring of the following metrics:
| | |
| --- | --- |
| Full connection statistics | Query cache & key buffer |
| Database size | Process list and state |
| DBMS traffic | Lock statistics |
| Current function status | Table status |
| Request statistics | And many more |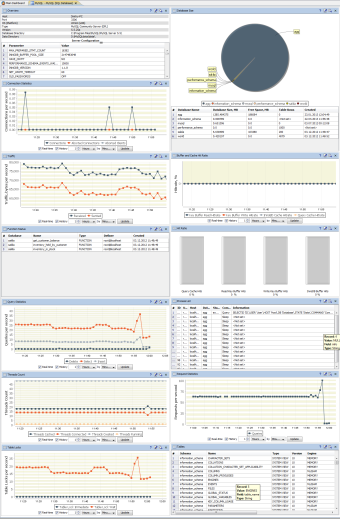 MySQL Monitoring