APAC CIO Outlook Recognizes Tibbo as one of the World's Most Promising IoT Solution Providers, features Victor Polyakov, MD of Tibbo Systems, on its cover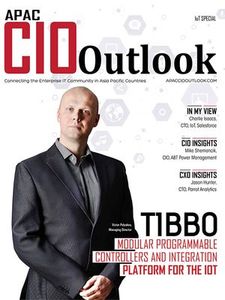 Taipei, Taiwan - Tibbo, a leading manufacturer of IoT devices and intelligent device management software, has been named as one of the world's 25 most promising IoT solutions providers by the APAC CIOoutlook magazine.
APAC CIO Outlook is a printed publication that aims to provide a platform for CIOs, CTOs and other senior-level IT buyers and decision makers, as well as CXOs of solution providers, to share their experiences, wisdom and advice with enterprise IT community.
Providing a cover story for the magazine's May issue, Tibbo executives Dmitry Slepov and Victor Polyakov present the products at the core of the group's value proposition: modular Tibbo Project System controllers and AggreGate IoT Integration Platform.
Highly configurable and affordable, Tibbo Project System (TPS) controllers are quickly gaining traction with customers. The flexibility of TPS is derived from Tibbits — miniature hardware blocks implementing specific I/O functions.
"The module-based approach of TPS saves our customers' money by allowing them to precisely define the features they want in their automation device," explained Dmitry.
AggreGate Internet of Things Platform facilitates acquisition, storage, processing and visualization of data from connected devices. AggreGate also integrates collected data into third-party enterprise systems. Devices connected to AggreGate may be Tibbo's own embedded modules and controllers or third-party products.
When used together, TPS controllers and the AggreGate platform complement each other, creating a powerful, extensible foundation for realizing customers' future needs.
Carving a niche in the IoT industry, Tibbo serves as a one-stop shop for making its customers' projects or systems a success. Elaborating on this, Dmitry said, "By using our AggreGate cloud platform and IoT hardware, our customers can dramatically shorten time to market. We provide the proven hardware, software, and infrastructure so that they could focus on their core competencies".
Read the full story online: http://www.apacciooutlook.com/digital-magazines/IOT-May-2016/
About Tibbo
Tibbo, an international group of companies, is a leader in hardware and software solutions for the Internet of Things (IoT), IT infrastructure management, industrial and building automation, remote monitoring and service, physical access control, and data center management. The Group comprises two member companies: Tibbo Technology and Tibbo Systems.
Tibbo Technology designs, manufactures, and markets programmable IoT modules and controllers for the automation industry.
Tibbo Systems develops, deploys, and services software solutions based on its AggreGate cloud platform, as well as hardware supplied by Tibbo Technology.
Tibbo partner network includes distributors, OEM manufacturers, and system integrators from more than 50 countries.