Tibbo participated at the Internet of Things (IoT) Tech Expo in London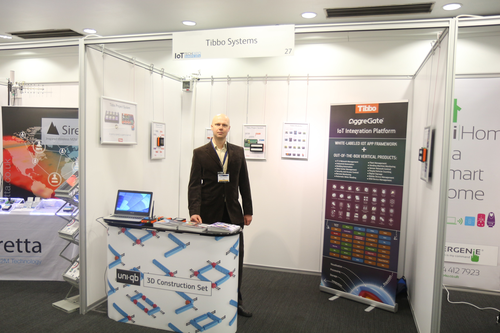 Taipei, Taiwan – Tibbo, a leading manufacturer of IoT devices and intelligent device management software, exhibited at the IoT Tech Expo Europe 2016 which took place in London's Olympia. These were productive two days, which have brought together a great number of well-known IoT industry experts. More than 100 companies took part at the Event.
At the Expo, we have presented our innovative IoT architecture comprising the AggreGate IoT platform and Tibbo Project System (TPS) hardware. Combined together, AggreGate and TPS allow our clients to build and deploy sophisticated distributed control, network monitoring and data collection systems.
The conference program consisted of several sessions dedicated to daily life IoT, industrial IoT, physical security, asset management, smart cities and more. Leading IoT experts have provided their own opinions and forecasts on the Internet of Things future development trends. Interesting topics and issues were raised within Q&A sessions.
Having been involved in this event, Tibbo gained very exciting and productive experience. We've discussed the collaboration prospects with potential partners, as well as met IoT market drivers and influencers. Organizers and experts have also commended the IoT Tech Expo Forum for its role in developing existing frameworks, IoT products, the Internet of Things as a whole, as well as emerging start-ups. Roundtable discussions and demo booths allowed participants to estimate the current M2M and device connectivity level in the cloud and reveal the bottlenecks. The experts exchanged their views on the main problems and challenges being faced by developers, integrators and vendors. They tried to find solutions to these issues, make plans and forecasts for the future.
Based on the successful experience with London forum, organizers are going to repeat the event in January 2017. In addition in summer and autumn 2016 similar conferences will be held in Germany and San Francisco. Tibbo Systems is also considering these participations capabilities.
Take a look at the full photo-report here.